HI PRIS!! WE ARE HERE ONCE AGAIN INVITING YOU TO:
"Back To School" - FTISLAND 6th Anniversary Party!!!

Venue: Rooms 498 Boni Avenue, Mandaluyong (Diamond Function Room)
Date: June 9, 2013
Time: 12:00PM - 5:00PM
Entrance Fee: 250 Pesos (inclusive of food and drinks)
*200 pesos for Registered Members

What to expect:
concert viewing
Games and prizes
Photo booth picture as your souvenir (unlimited prints for 2 hours
)
*we will create a photo book with our photos of the event to be sent to FTISLAND
*you can bring your own props, cheering banner, light stick, Pentastick etc. for the photo op
Primadonna Performances
!
[PREORDER]
Preorder your FTISLAND Merchandise and be 'concert ready' for our "Back To School" FTISLAND's 6th Anniversary Party!
http://www.ftislandphilippines.com/h3-ftislandmerch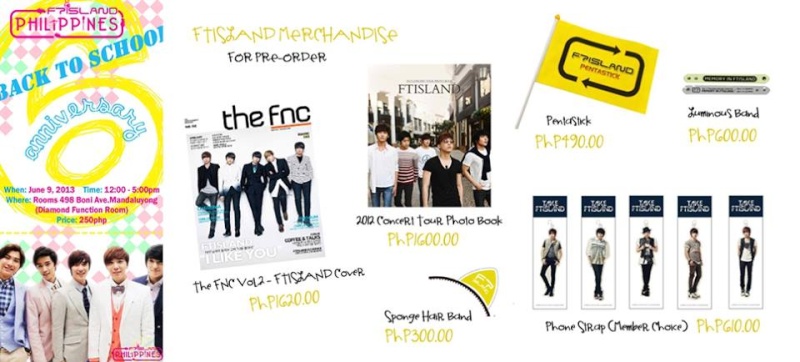 (Prizes donated by Admins and fellow Primadonnas)
Also... please don't forget to wear your best 'Back To School attire/costume' such as school uniform, tracksuit,
varsity jacket/uniform, gym attire, nerdy glasses, necktie, etc. and win a special prize!!!
If interested in joining, kindly email us at events@ftislandphilippines.com with the following:
Subject: "Back To School" - FTISLAND 6th Anniversary Party
Name:
Cellphone number:
Forum username:
Facebook:
Twitter:

Please wait for our confirmation with 24 hours after sending your email.

To Minors (17 and below) - we trust that you will seek proper permission from your parents/guardians.

Spread the Pri love~
*waves Pentastick*Directions:
P.S.: please don't be distracted with your bias's photo, you might get lost  
[FANGATHERING MEET UP]
Para sa mga sasama sa 6th Anniv Gath na kailangan ng "gabay" para makarating ng safe sa venue, magkakaroon tayo ng meet-up.
Where: MRT BONI STATION
When: June 9 @ 11:15AM, sharp. (Waiting time: 30 minutes, which means, 11:45, aalis tayo ng Boni Station)
Who to find: CHRISTINE  
---
Expected Attendees
powerpuffjemz
hrlnmay
imtheaaaa
Ayie.Sarang
mingi171
mhlove09
Janina1111
remdc
maeyin.lee

Babyhongvhine
GCniceu
yeoshikkie
Loli
skullmin24
dongmaine15
pixelneon
nhixxofficial
gelie04
tinefinity
mhikky
primanads
skullhongstar
TheaLouiseBaron
NiHyo.Babo
bea024
cy_ki
mysaico011
phoemela_0729
ayiecapricorn68
akira kun
hongstarpat
Jesse Evans
CatsCrabsPumpkins
blackcatPM
theeryl
ruru
monsterrificy
kateSH.14
prima_rosy
tarasong012
mutchaikz
syd25
Ftjustine
iammrssong
potassiumcarbon
audskipuslee
nicknocking
iamhottestprima
saico01129
Shijin14
seongminarhiza
Jiwelle
mitchyprimadonna
honey
KRISHAAstar
toyang1789
Ann V.
mheljinnie
angel.vera.5074
lhen
Last edited by Admin on Sat Jun 22, 2013 7:45 am; edited 55 times in total (Reason for editing : we are ready to party :D)