Let's take a sneak peek into FTIsland's new album THE MOOD through its styling. The title track 'Madly' has a monochrome concept! The drummer Choi Min-hwan shares with you "FTIsland's fashion diary.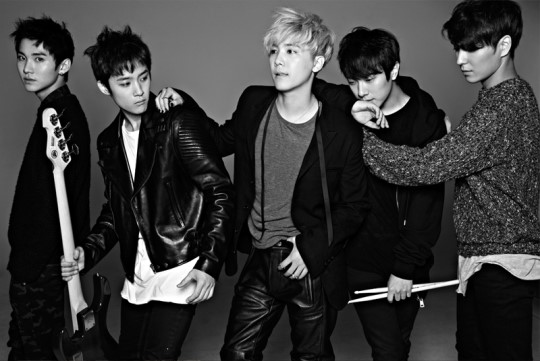 Hello. This is the drummer Choi Min-hwan of FTIsland. Ahead of our comeback, we tried taking out FTIsland's own true nature as a band based on monochrome styling. Photographer Mok Na-jeong was with us to help us carry out our mission before the photo shoot. Are you surprised by the hidden calm image of FTIsland? We are serious guys (laughter).
I will explain styling points of each member to you. I studied fashion in 2013 in my own way. Please look forward to FTIsland's rising fashionista!
Shall we begin with FTIsland's representative fashionistas Jong-hoon and Hong-ki?
The styling point of FTIsland's leader and guitarist Jong-hoon is a layered look.
Shall we take a look at the layered jacket styling of Jong-hoon? The stylish guitarist is always envied by the other members. A knitted top, a structure vest, and a coat are properly layered, showing Jong-hoon's good fashion sense. I should copy his style.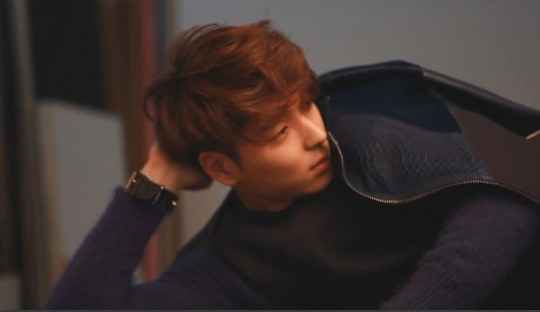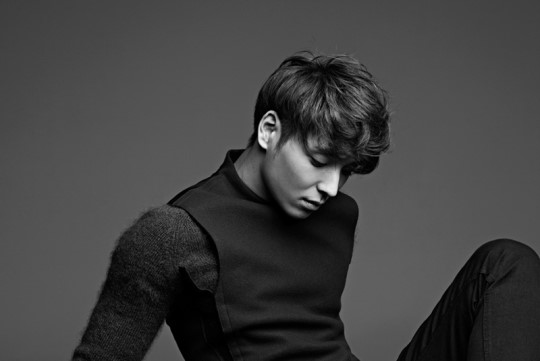 A-cut of Choi Jong-hoon
[Mini interview-Choi Min-hwan asks Choi Jong-hoon]
Which part did you pay most attention to?
I enjoy styling myself, but I usually respect ideas of a stylist for a photo shoot of a certain concept. I have a larger body than the other members since I like working out (laughter). That is why I pay most attention to a fit. I wore a slim innerwear for this photo shoot. I think that the layered look turned out properly. The rider jacket has patches of different materials. I like it since it looks more gorgeous in a monochrome picture.
What about hair styling?
I have a neat hairstyle. I tried more natural waves than before. In fact, I felt awkward to brush my hair back with my hand since I was not used to touching an already-set hairstyle. It did not take long, however, to realize what the photographer wanted and conveyed the feeling without touching my hair. I would say that it is my know-how that I obtained through years of photo shoot experience (laughter).
The trendsetter and fashionista Hong-star! The styling point of Hong-ki is a pattern.
I think that the new black suit fashion characterized by leopard fur can be gorgenous only on Hong-ki. Hong-ki still looks good in white hair. Doesn't he look like a boy from North Europe? I am looking forward to what it would be like for him to sing in this charismatic look.
Hong-ki, I always watch you while playing the drum! I think that your white hair is really cool (laughter).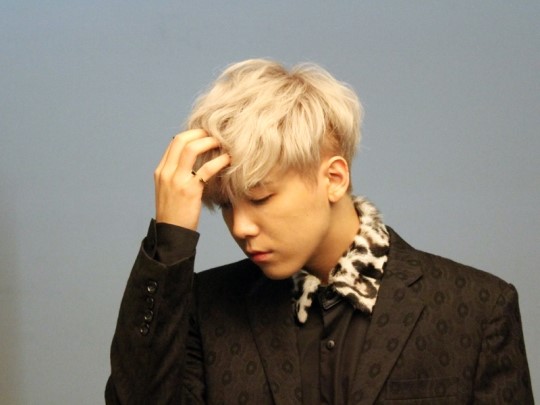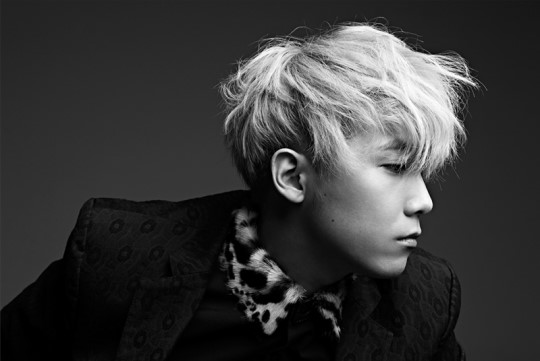 A-cut of Lee Hong-ki
[Mini interview-Choi Min-hwan asks Lee Hong-ki]
Which part did you pay most attention to?
It is the color of hair. I chose the color in line with the concept of the new ballad song 'Madly'. I have already thought about this color for a long time. It took a long time to have my long red hair cut and turn it into white blonde on the day of the photo shoot. Having haircut was not an easy choice. I arrived at the photo shoot a little late due to the hair-dying, but all staff members yelled out cheers to see my hair. It was then I thought that I made the right choice (laughter). I believe that the monochrome picture made my hair shine even more.
What about the clothes?
'Madly' is a ballad song. The stylist suggest a suit for a calm and refined feel. I, however, refused to wear an ordinary suit. That is why I wore a black patterned suit and added leopard patterns as a fashion point. I do not hesitate to what to wear for styling. When a stylist shows me items, I immediately chooses this and that on the spot.
The styling point of our sexy guy Jae-jin is being natural.
Jae-jin has recently become very stylish. I think that I should try harder. Particularly, Jae-jin fascinates people only with his watery eyes. His eyes twinkled even more during the photo shoot. Well, I recognize Jae-jin as FTIsland's best photogenic member.
The stylish bassist received a round of applause from us by posing gorgeously in a sleeveless t-shirt and leather pants. Let's take a look at his nice muscles built through workout in the sleeveless look.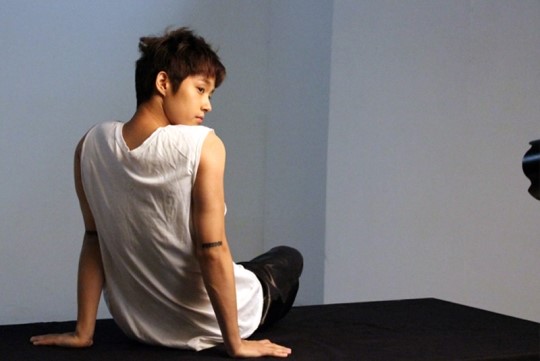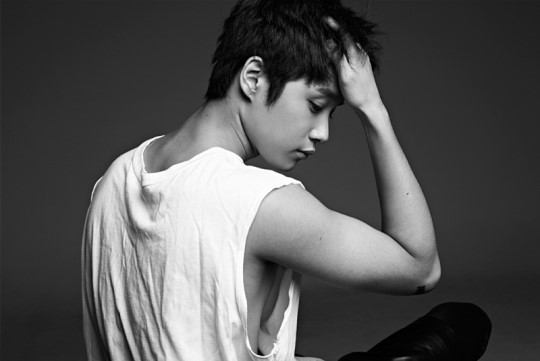 A-cut of Lee Jae-jin
[Mini interview-Choi Min-hwan asks Lee Jae-jin]
Which part did you pay most attention to?
I tend not to share my ideas on styling. I just share my thought only when I do not like a certain item suggested by a stylist. Men usually look good in a jacket, but I do not probably because I look younger than my age (as people say). So I ask the others to check my look to see if I look good in it. During the photo shoot, I wore a black shirt and a dark outer. The overall picture was dark. I offered an idea to replace the innerwear with a brighter one. I am satisfied with the result since the slightly wrinkled t-shirt was expressed well.
What about the hairstyle?
I toned down the hair color. I heard that I will appear in a monochrome picture in a natural mood. The photographer asked me to brush my hair back. That is why I did not use any hair gel. That is part of the reason why I could get a natural picture as planned. Hong-ki said he liked my previous hair color, but I am fine. I look good in any color (laughter).
The styling point of my beloved best friend Seung-hyun is a material.
He shows the essence of a simple chic look without any accessory. I really like his natural hairstyle. I love his hair when it becomes ruffled in the morning. I think that he looks most gorgeous in that hair. I am sad that I cannot show you the hair.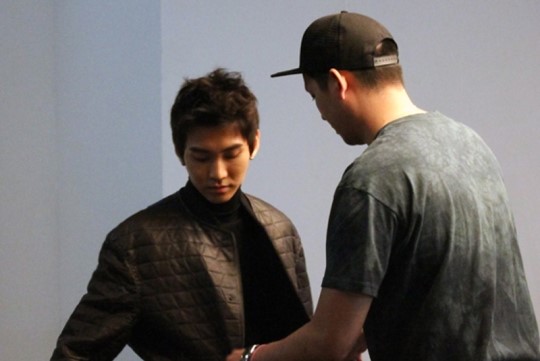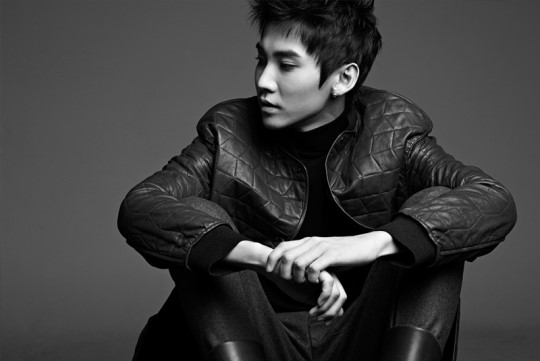 A-cut of Song Seung-hyun
[Mini interview-Choi Min-hwan asks Song Seung-hyun]
Which part did you pay most attention to?
I wore a black turtleneck sweater for a simple and neat feel at first. I checked my photo on a monitor and decided to wear an outer over it. I was surprised that the outer looked much more gorgeous in the picture. The stylist was different indeed. I am going to listen to him well (laughter).
I think that you look gorgeous in this hairstyle. What do you think?
I agree. I like short hair, too. My hair was short already, but I had it cut a little more to raise it upward. Have you noticed it? People tell me to let my hair grow long, but I like this style better. I like this because the style does not overlapped with those of the other members (laughter).
Well, finally, the styling point of Choi Min-hwan is here.
Tada! My styling point is black and white, which is an overall theme of today's STARCAST.
I tried a clear contrast of light and shade for a gorgeous fashion look. I especially liked a knitted top of black and white. Do I look good in it? I focused on a pose to make sure that the black and white look does not look boring. I thought long and hard about the pose in the picture. I let the blouson draped around me on purpose.
The look is supposed to convey a chic feel of an autumn guy. What do you think?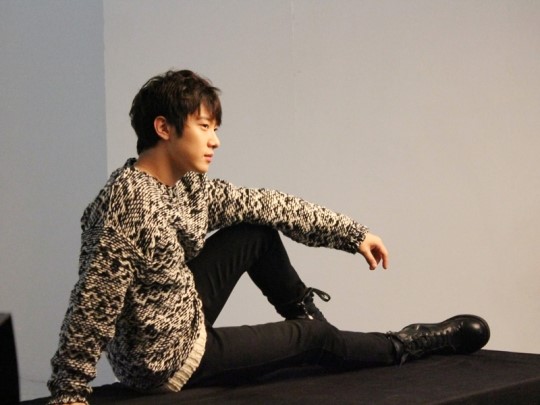 A-cut of Choi Min-hwan
We did the photo shoot as above. Let me share more pictures from the photo shoot!
First of all, these are the accessories, clothes, and shoes used for our styling.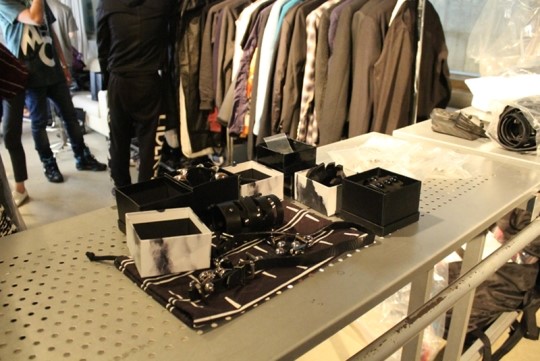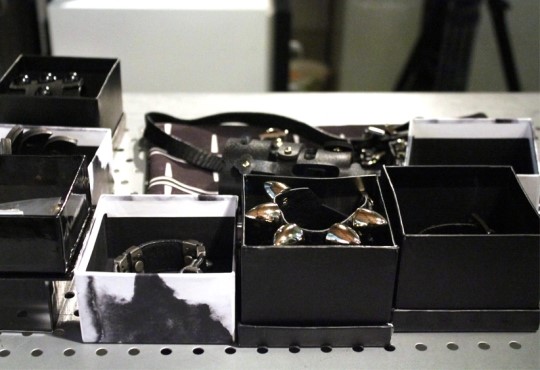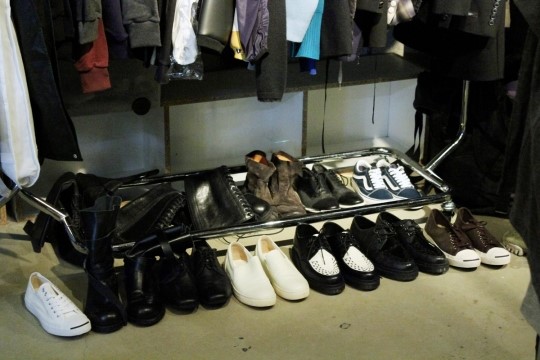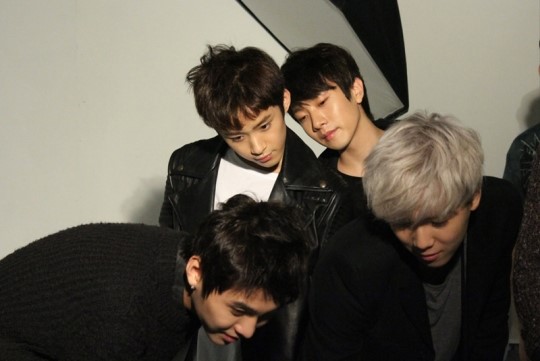 We checked our style in detail in each cut. Well, where is Jong-hoon?
Jong-hoon is focused on styling his hair. This is how the natural wavy hair was born.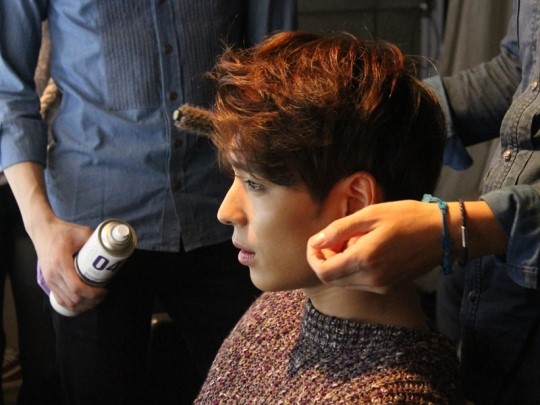 The new hairstyle reminds me of the blonde Jeremy from 'You Are Beautiful'. Is this only me? The vocalist Hong-ki is putting on makeup.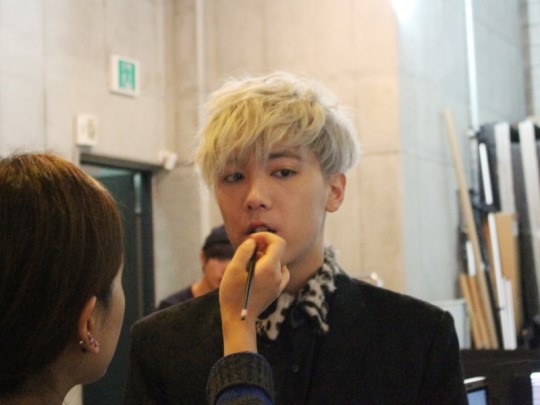 Jae-jin showed off his solid muscles built through regular workout. Being natural is the point! Just wearing a piece of t-shirt makes him shine.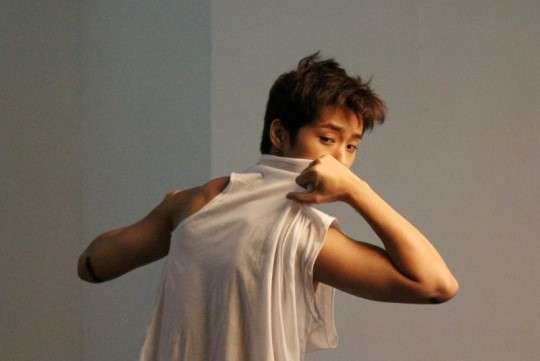 One of my favorite pictures! Close-up shot of Seung-hyn's natural hairstyle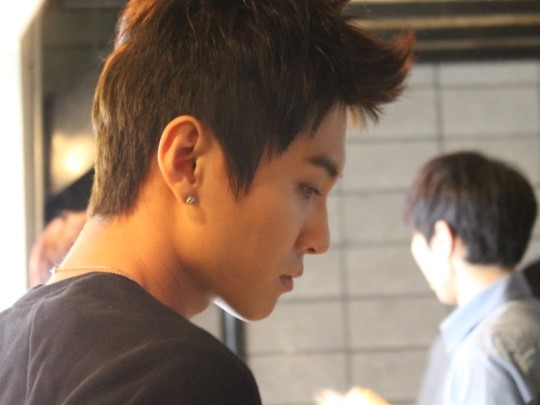 I will wrap up this styling story on FTIsland's new album 'The Mood' by sharing my best picture with you.
Will you see my favorite? I chose this one since I think that I look natural in that hairstyle. I hope that the picture can convey 'The Mood' to you.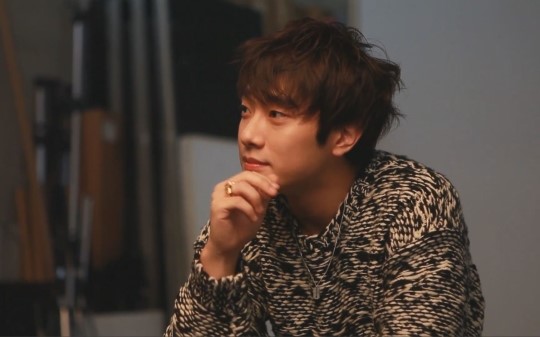 Written by Choi Min-hwan (FTIsland)
Photographs from FNC Entertainment
Source: naver
Re-post: hongstarpat@ftislandphilippines